THIS EXPERIENCE IS COMING TO AN END
Indonesia – 28 Celsius HOT
Well, it's been a long time since my last entry and a lot has happened!
In Widya Mandala, things are going great! I am learning a lot about teaching, every class is an opportunity for me to try to do better and apply some of the things I am learning on the TEFL course that I am taking while I'm here. What's been more difficult for me since the beginning is time management. It is quite hard to plan a whole 100 minute lesson and predict the exact amount of time you're going to spend on each activity. It is also not easy to know beforehand if your students will engage in all the activities you think are interesting, especially if they are young adults. They are aware of what you should know, they will quickly and effortlessly notice if you're not well prepared and they will feel betrayed if it looks like you didn't put enough effort on planning the lesson. This is why teaching 16 – 20 year-old students is one of the hardest things. It requires a lot of preparation and quite a few B plans.
Over all, as I said, I am learning a lot and I feel more and more comfortable every day. The IC students are doing great, they are still quite shy when it comes to speaking in front of everyone else or to me, but their improvement is obvious in comparison to the first classes. On Thursday last week we had a speaking test and they all did great! I had been meeting with some of them to practice during my office hours and I found most of them were more confident than when they had their first speaking test a couple months ago.
Apart from teaching in WM, during these last few weeks, Giselle and I have been going to different High Schools to lead their English Club sessions and provide the students with a different experience. We've been kindly welcomed with enthusiasm everywhere we've been and the students have engaged actively in all our activities.
I also used the last two weekends to travel to two places that were on my bucket list since I arrived in Indonesia. The first one was Yogyakarta. I absolutely loved it! We spent two days in the area and we did lots of things. On the first day we drove our rental motorbikes through the mountains to get to some of the beaches south east from the city. Check the pictures and judge by yourself.
On the second day we went to Borobudur and Prambanan temples. Again, I loved it! My favourite one was Prambanan, it is huge and it is amazing to imagine what it must have looked like before it was partially destroyed.
Last weekend we went to Gili Labak, in Madura, and it was a fantastic trip as well. The island is crazy beautiful and we had the best snorkel experience ever!
My Indonesian adventure is ending soon and I can't believe that 5 months have gone by… I only have 10 days left in this country. On a brighter note, however, I have to admit that I miss Barcelona and my friends and family a lot. I miss the food and I miss its lifestyle.
Slide the image to see more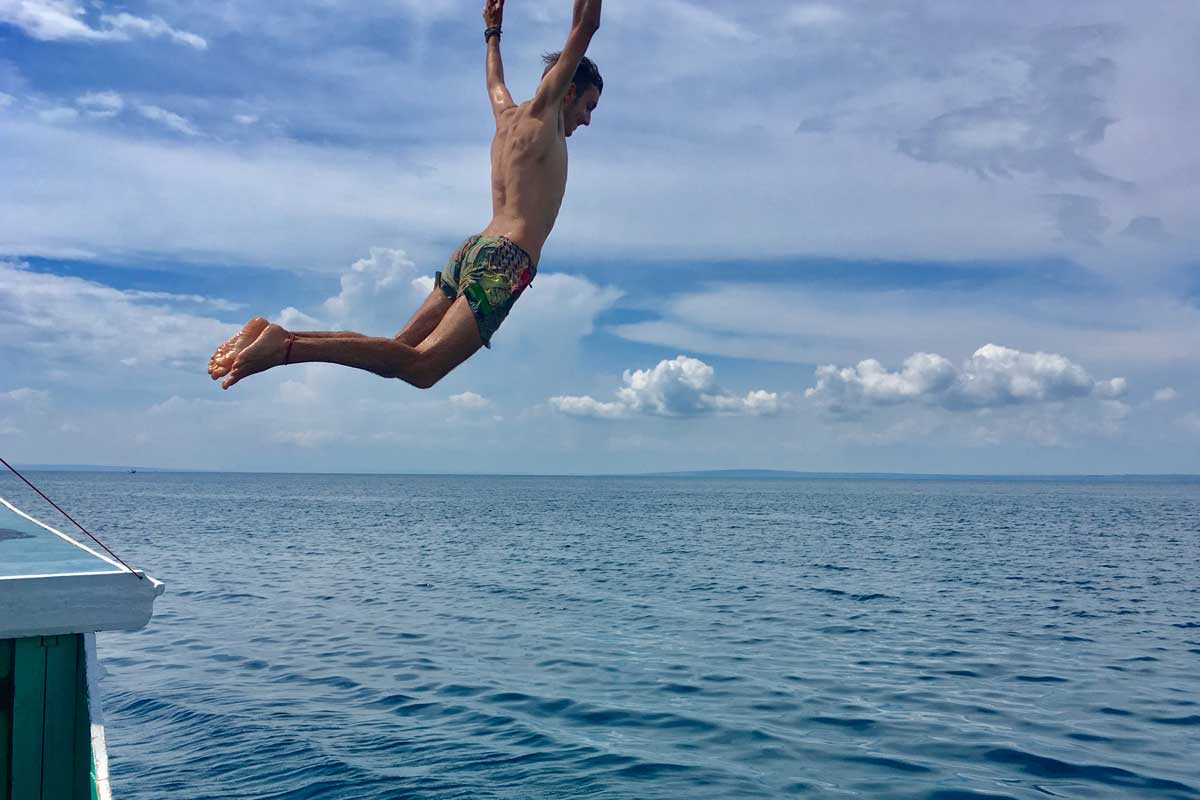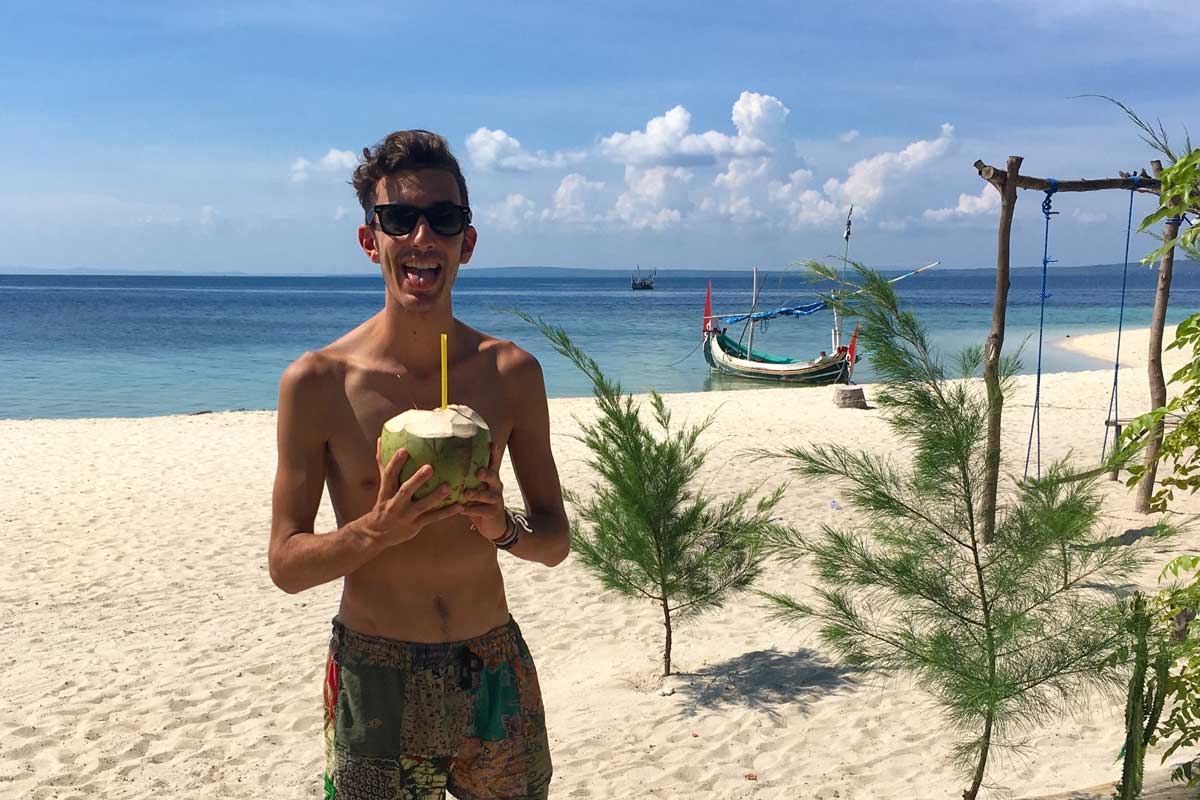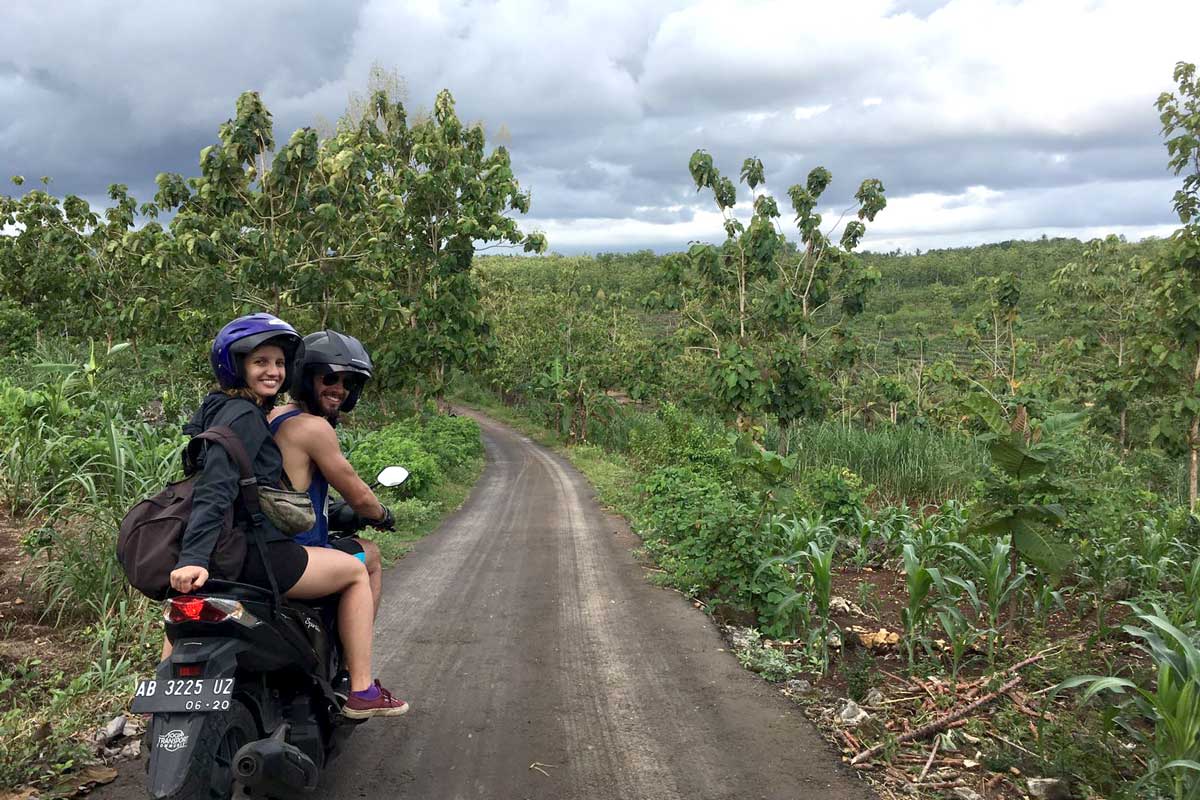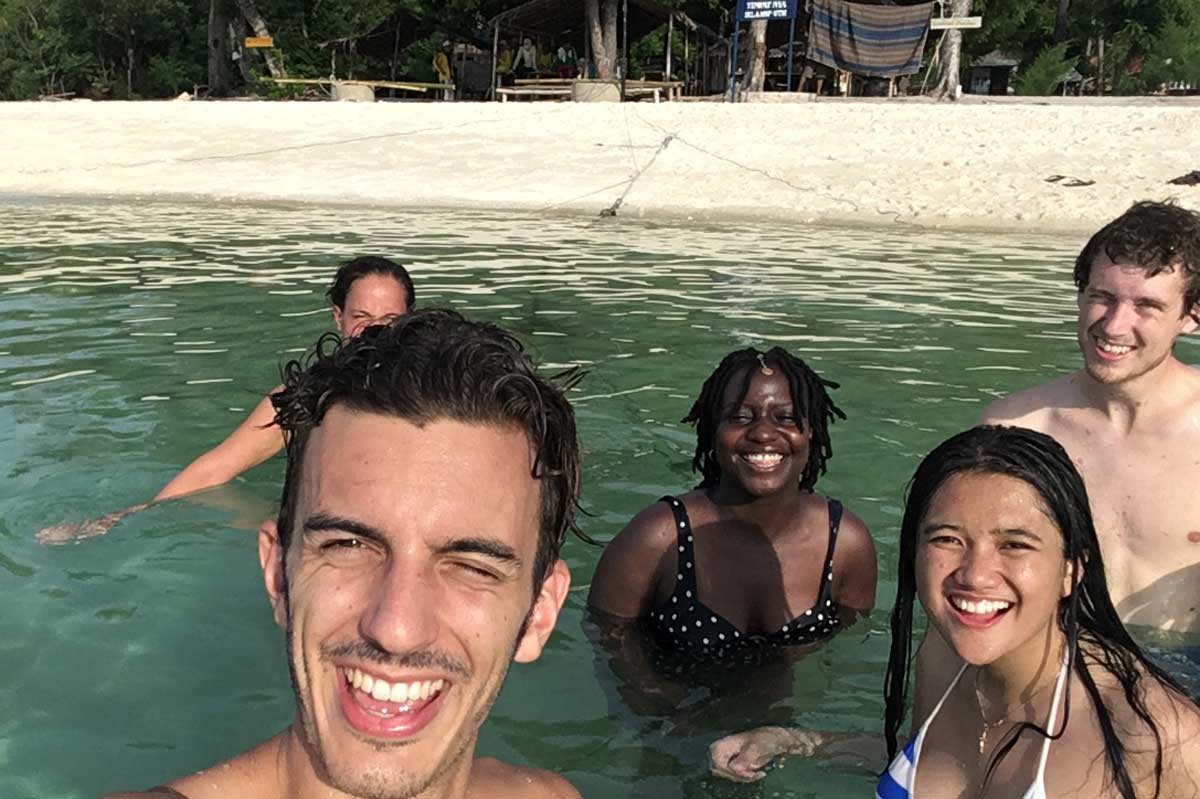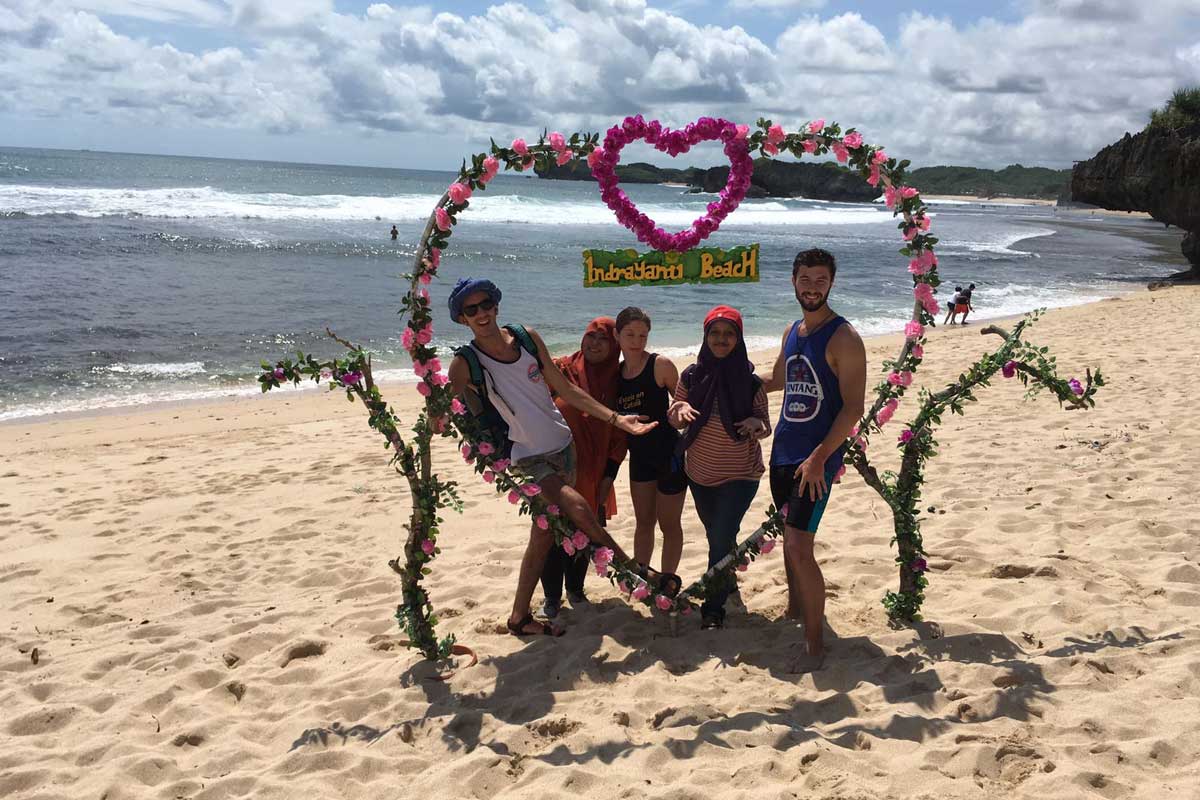 2-WEEK VACATION 
Bali & Lombok, Indonesia – 31 Celsius HOT
Due to the mid-term tests, from the 1st to the 15th of October, I got the chance to go back to Bali and Lombok for two weeks. I was honestly quite excited about this because living in busy-traffic can't-walk-anywhere Surabaya was starting to get on my nerves.
I took a flight on Saturday afternoon and this time I was more than ready to face the hunger-games-like scenario that is Denpassar airport. Katniss Everdeen style, I made it through the crowd of drivers screaming "taxi taxi taxi taxi taxi Sir, where you go? Mister mister, Taxi!". After asking a few people I found my way outside the airport and from there I was able to order a Gojek. I honestly don't get it. Why are Uber, Gojek and Grabcar banned but then you see hundreds of illegal taxis and people offering to take you anywhere? Aren't all these exactly the same? Everyone wants to squeeze you to your last rupiah in Bali, why does it matter if they use an app? Anyway, I was more than happy with my Gojek driver, who took me to my hostel in Kuta for 14k rupiah (1 euro) while the first time I went from the airport to Kuta in June everyone was trying to charge me 300k (25 euros). Welcome to Greedy-land.
I should really consider getting a membership card at Kayun Hostel (if that's a thing) because I have stayed there in more than 4 occasions during the last 3 months. Unfortunately, they didn't recognize me and my plan to get a discount for being nice and a loyal customer didn't work. I left my bag there and since I wasn't supposed to meet Jordina and Pau until later that evening, I went to the beach for a while. I kept having flashbacks from my first time there. Only this time there were way less people and it was a bit more relaxed. The hostel was empty too, I was alone in my 6 bed dorm.
When Jordina and Pau arrived, we got ready and started our night out!
Slide the image to see more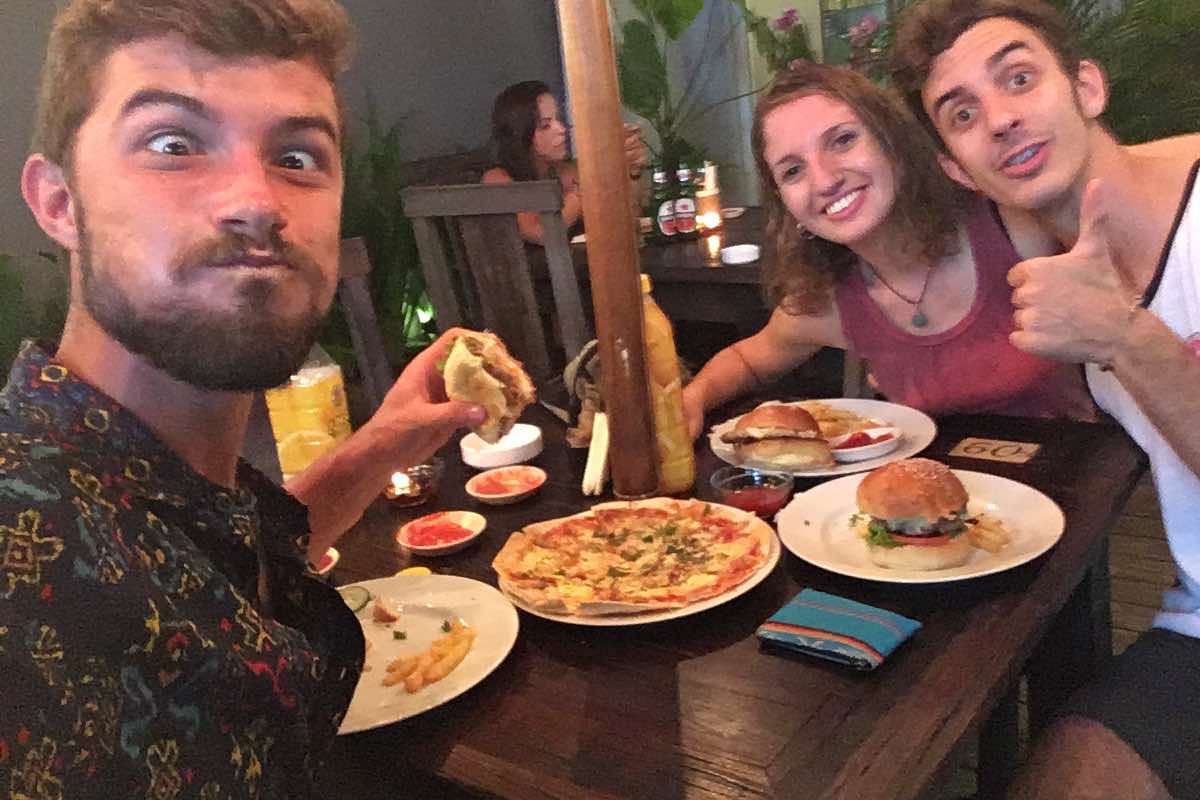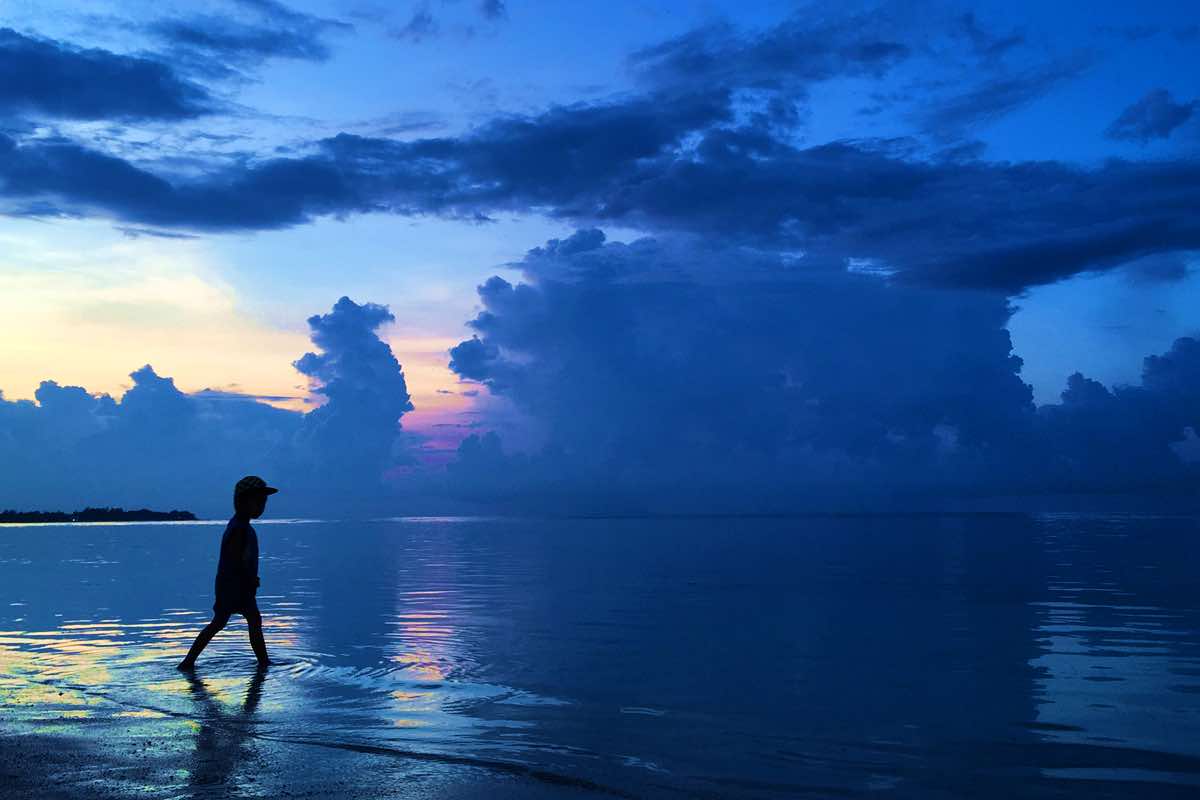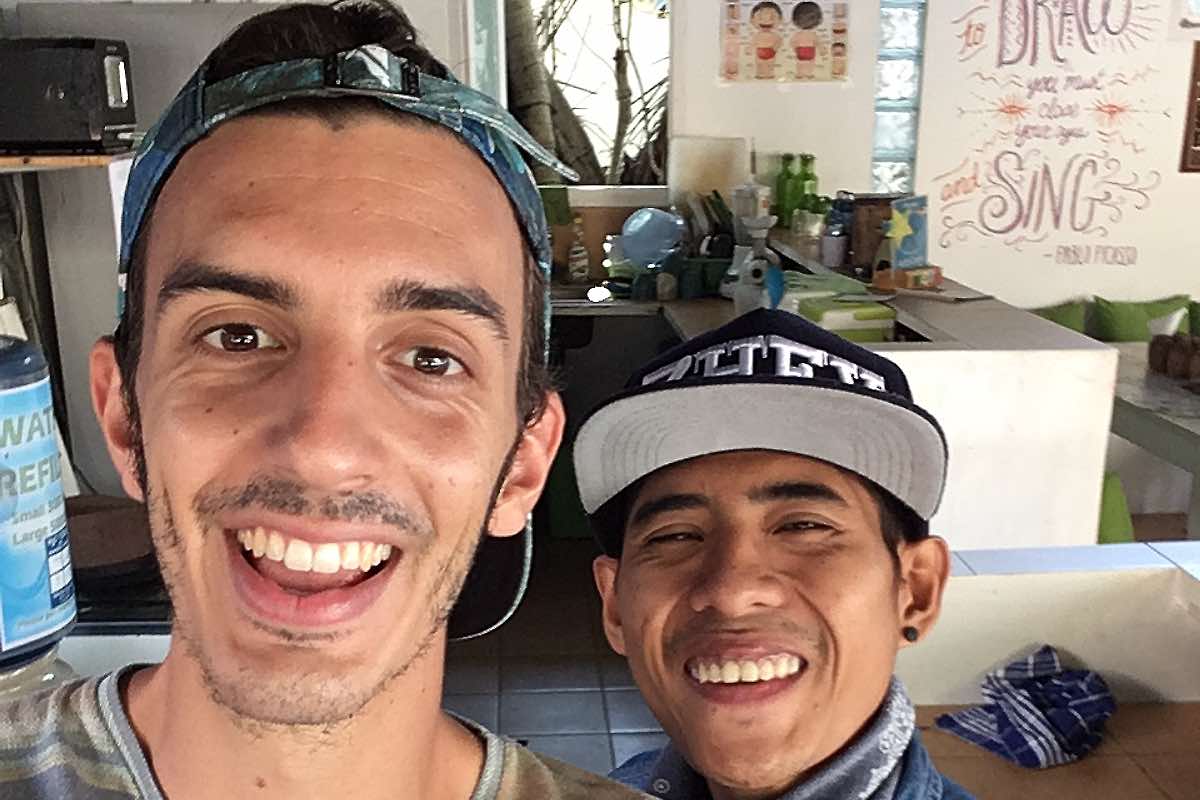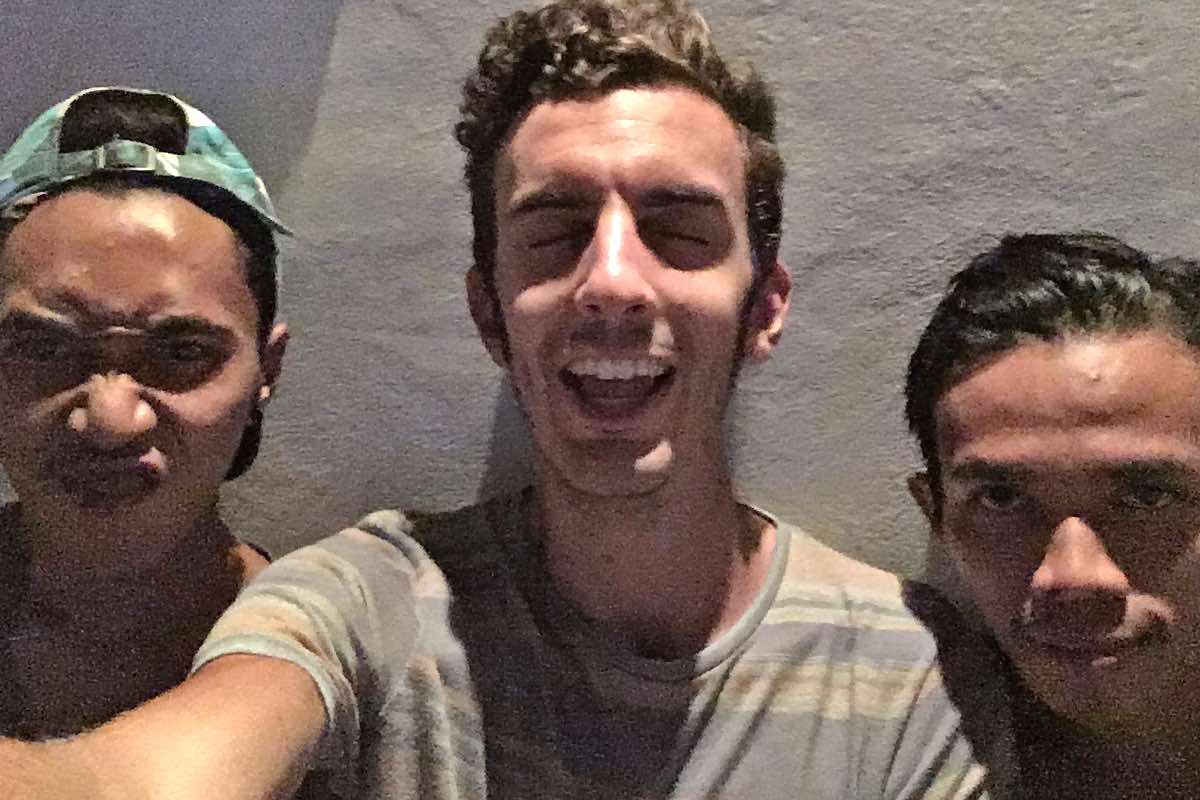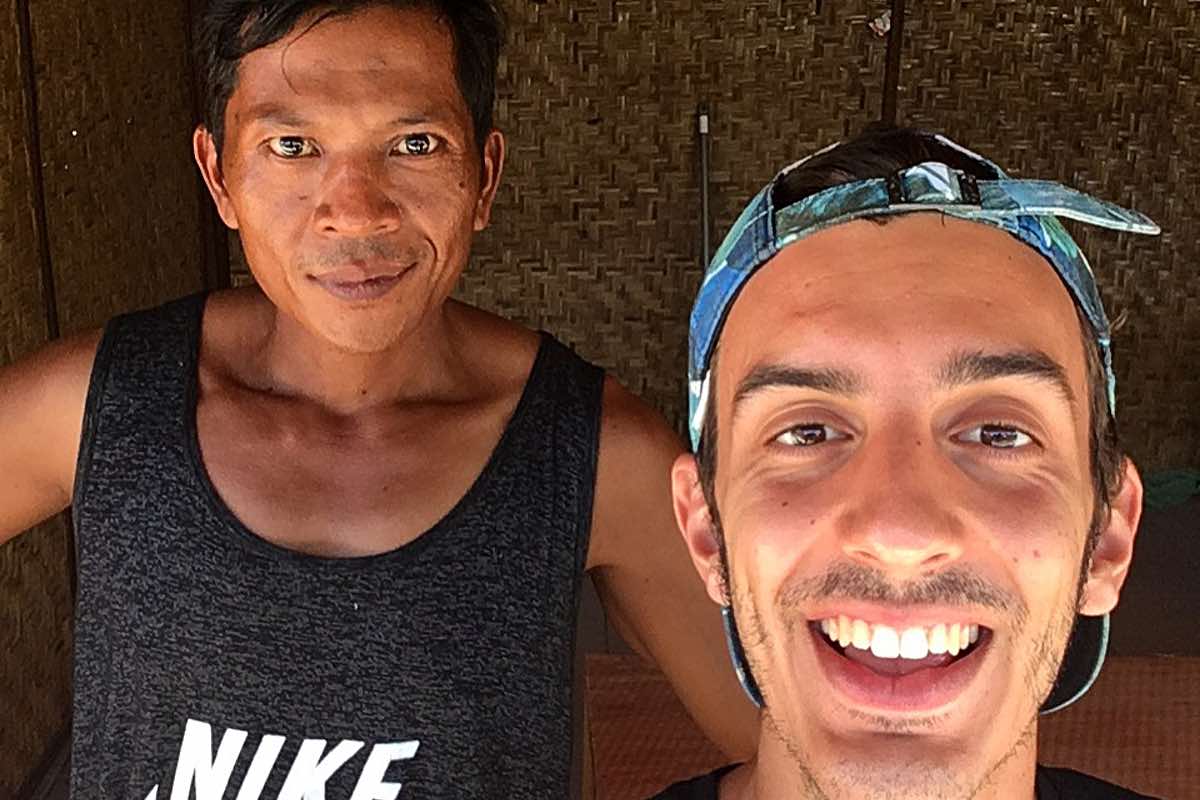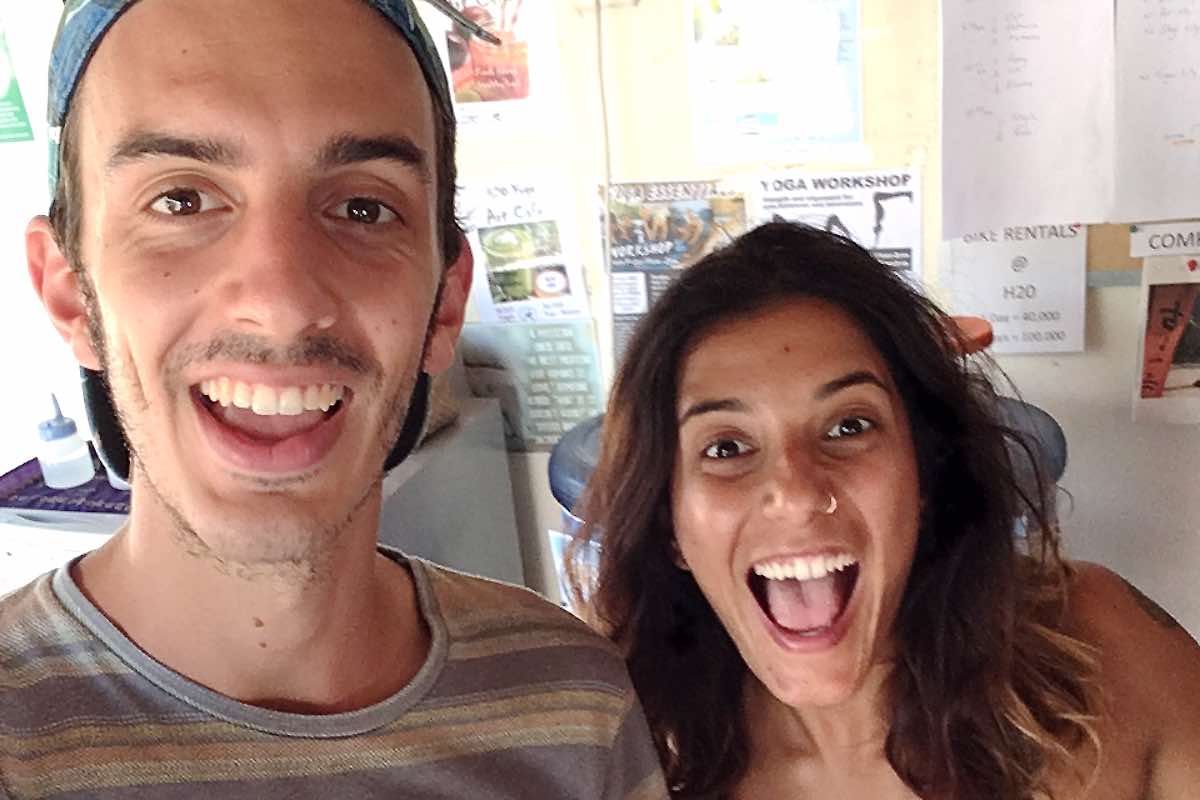 Something that I wanted to do this time was breaking through the racial barrier that exists between locals and tourists. It is something that I hate, a wall so hard to crack. My first attempts to help the Indonesian workers at the café failed thoroughly. They were not willing to let a white tourists do a job that only Indonesians were meant to do.
"Washing dishes? Foreigners don't know how to do that, that's how it is, they are good with computers and office work. We Indonesians are good with service jobs"
This made me realize how thick that barrier was. And it frustrated me even more. I tried to explain that not all foreigners were the same, that while many of the tourists on the island were people with money on holidays and, sometimes, rude and arrogant, it didn't mean that some of us weren't just normal people that had worked service jobs, washed dishes, cleaned floors and done lots of other things for a living as well. So I started doing what they were doing and after a few days I could see a change in the way they behaved around me, we started eating together and they told me about their lives. They finally saw me as one of them and that truly felt like a personal success to me.
It was so funny when one day they even asked me to join them on a simple football game. As you all can imagine I SUCK at football, but of course, I had to be cool about it and live up to their expectations of all Spanish people being GREAT at it. They took me to this "field" which was basically concrete, plants, sand and trash all mixed together, and we made two teams. Shirt on vs. shirt off. Oddly enough, I felt a strange aura of safety because most of them were as skinny as I am. First time that has ever happened to me. I also realized they were all playing barefoot so, obviously, I thought:  Gerard, be cool and do the same, show them you are like them. And I did. And I showed them I was soooo not like them because after a few minutes my feet were bleeding all over the place and the game had to stop so prince G could get his flip flops back on. All in all it was an amazing moment, I pretended to be truly interested in the game and when I touched the ball (I tried not to do that too often) I could hear them screaming "tiki taka, tiki taka" (seriously?) and I even scored a goal! (TOTALLY RANDOM, don't get excited).
During my days in Gili Air I also got the chance to talk to a few stallholders by the shore. I would walk by their little stands every morning and they would invite me in (I say "in" but it was actually just a 3 square meter area of sand behind their stall) for coffee and some food. I managed to make them see I was not interested in buying anything and that all I wanted was to have a nice conversation and to keep them company. They were happy to have me for an hour or so every morning since it was low season and there was no one walking by. They showed me where the locals eat and shared their food with me (someone who shares food with me deserves all my respect and appreciation immediately). They told me about their lives back in Lombok and I was so impressed with their positive attitude towards everything. We had some really intense conversations on what life is about, what's important and what's not. We talked about respect, religion and lots of other things. I learnt a lot during those conversations. I'll stick to this one idea Muhammad said to me:
"You know, you have a nice car, a nice villa by the beach and a beautiful wife. You have lots of money, everything you ever wanted is yours. But when you die and all of that is meaningless, useless. You know what life is really about? "Life" is when you slowly put your hand inside the calm ocean and you feel the water slowly wet your fingers, its temperature, its texture and its essence becoming one. That is what living is. So you can keep your cars and villas and beautiful wives. I don't need them".
Changing the topic to the night scene, this time I met some very nice solo travelers as well. One night we went out to the only place where you can "party" in Gili Air. We danced and laughed and had a really good time. That was all before THE SCAM happened (and luckily I wasn't caught up in it).
Let's see: It's 4 am and this Indonesian girl comes to your group and says : "Hey, I have a swimming pool at my place and you guys can join me for free for an after party yaaa".
– Would you join her?–
A. Of course, why not? This is Greedy-land but there're still some genuinely nice people with no interest in your money.
B. NO.   
Well, they did. Next morning I learnt that their phones and wallets had been stolen when, after a swim at that girl's villa, they fell asleep waiting to see the sunrise. Here comes the sun and there goes your money. Terimakasih.
Jokes aside, that was such a bummer for all of them and for sure a valuable travel lesson.
Slide the image to see more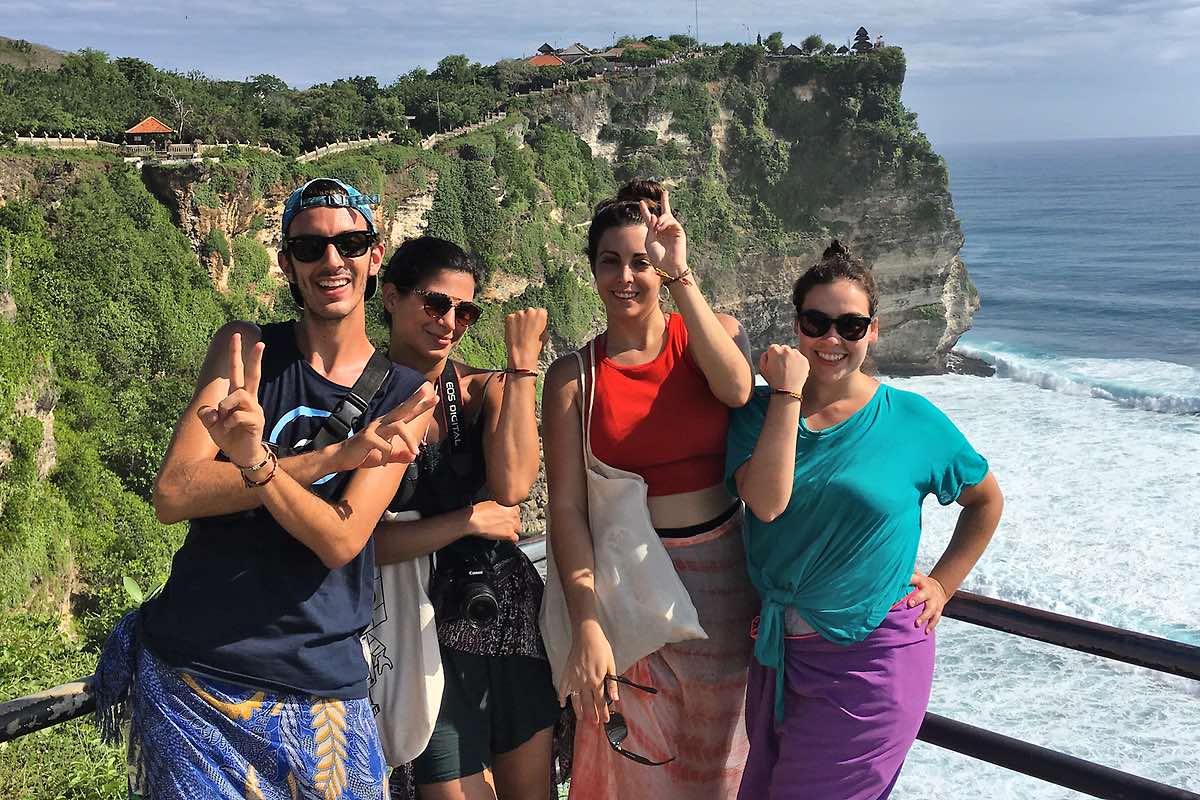 I spent the rest of my days watching sunrises and sunsets, doing yoga twice a day surrounded by yogis and nature. Not bad.
After 10 days, it was time to head back to Bali, where I'd meet with Irene, Mandy and Laura (YAAAAAAAY!!!). Irene was the first one to get there and we met in Kuta, Kayun Hostel again, as you might have expected. We spent that afternoon planning and trying to find a driver for the next day. Bargaining masters, we asked more than 5 different operators and we finally got it at the price we wanted. Next morning, this young driver, Gunair, picked us up and off we went to the Airport to pick Mandy and Laura. Hugs and laughs while Gunair drove us to different beaches. We swam, we sweated, we took lots of pictures, ate yummy food and were eventually deceived by the sunset in Jimbaran. Gunair dropped us in Ubud, where we were gonna spend the next few days.
We had a great time in Ubud, we walked A LOT and ate even more. It felt really good to spend time with good friends, I missed being able to laugh and joke in Catalan after all this time. As any real Catalan would have done, we stayed in the cheapest homestays we could find and we were surprised to see how good they were (and sad to know that we could have found cheaper deals). 
Saturday morning I was heading back to Surabaya while they were getting on a shuttle bus to Gili Air. Sad. But all good things must come to an end I guess. I made loads of memories during these last two weeks, I'm so happy that I went back to Gili to experience it from a different perspective and that I could meet my friends in Bali. We had an awesome time and now I am actually pretty excited for the next month and a half in Surabaya. 
Bring it on!
G.
SOME ADVICE ON LANGUAGE LEARNING 
Surabaya, Indonesia – 31 Celsius
Last week, the IC students had their first speaking test and I was one of the evaluators. Some of them were very confident and fluent while others were rather shy and quiet but, over all, everyone did a decent job and, fortunately, no one failed. Keep up the good work! I think everyone is learning a lot in class, but I'd like to stress how important it is for the students to try to speak in English as much as they can during the lessons when the they're asked by the teacher, that's the best way to improve! Sometimes I feel like most students are scared of making a mistake or of embarrassing themselves in front of the rest. The truth is that, even though we've all been there at some point of our learning process, there's no other way to get over that fear than facing it. I honestly think that, at their stage, speech fluency is more important than grammar correctness. 
During these last two weeks I've also taught in the presentation skills course, giving advice on how to prepare for a good presentation and how to become a good public speaker. We went through the key elements of the public speech and discussed some tips on how to prepare effective slides and catch our audience's attention. Some of the students in this course are strongly promising and I'm sure they will get far in their careers. The best thing about presentation skills and public speaking courses is that everything you learn can be applied in a vast range of careers, from the pure public speaker to the business woman addressing her team. Durning the class, I was pleased to see how they took in some of my suggestions and accepted my comments, listening to others' feedback to find out what you do wrong and trying to change it is the best and only way to improve, in language learning or in any other field. 
This Saturday the English Department is holding a Spanish Culture event in East Coast shopping mall and I am very excited about sharing some traditions and cultural aspects with the participants. We've been preparing different activities and everyone will be able to try some simple Spanish dishes (cooked by me!). There are two other interns from Barcelona working in Surabaya at the moment, Pau and Jordina, and they will be joining us as well for the event. Come and have fun with us, you might even get a selfie with some bules!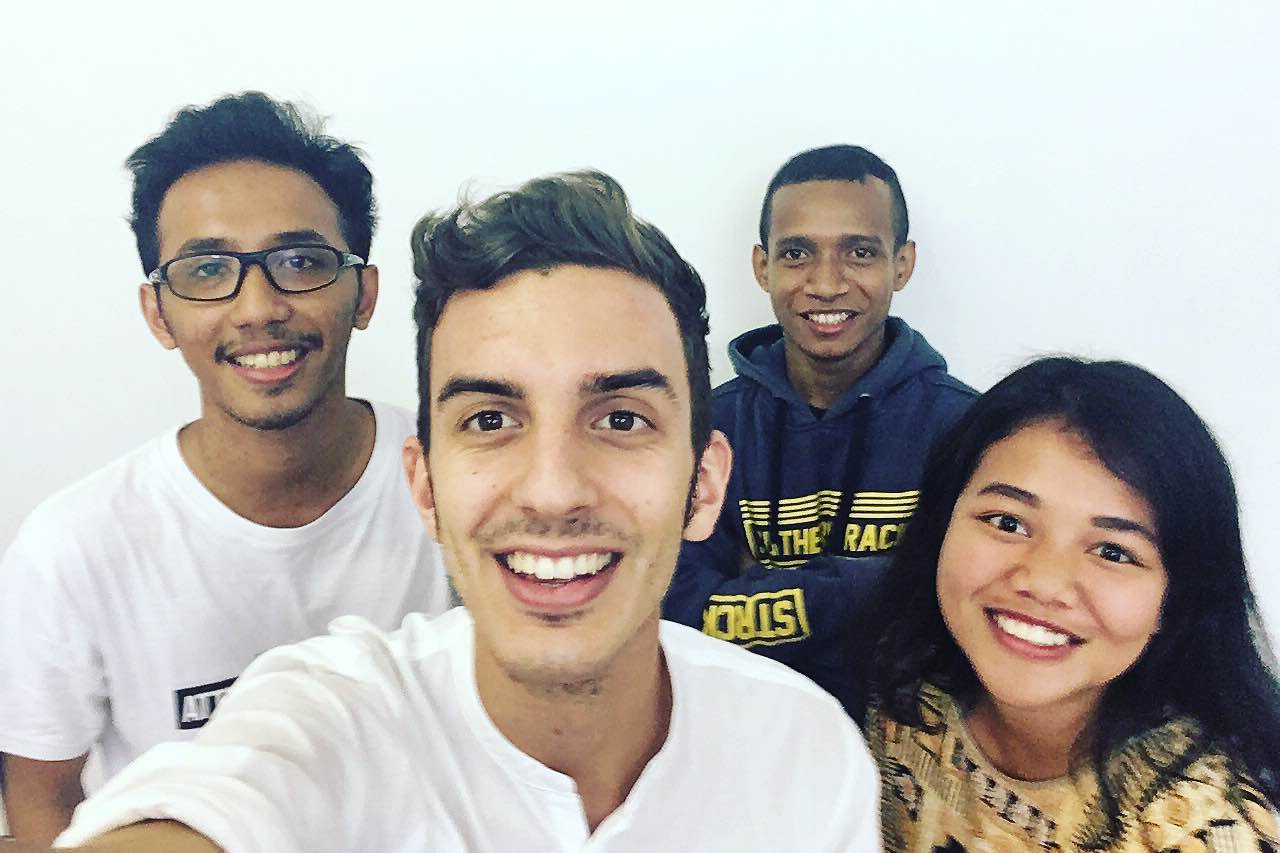 A DISCUSSION ON HUMAN Rights ISSUE & NEW HOMESTAY 
Surabaya, Indonesia – 28 Celsius
This last two weeks have been quite relaxed. I've been teaching a few classes and I've stayed here during the weekends. Last weekend, in fact, the student group UKM 4 organised an event called "A world without discrimination: especially LGBT" in one of the campus of Widya Mandala University. I had the pleasure of being one of the speakers and I had the opportunity to share with all the attendants my views on the topic. I was surprised to see how diverse the audience was and how well informed some of them were. We had a very interesting open discussion and I think that sharing my personal story helped the students and gave them confidence to fight discrimination. Still a long way to go in Indonesia. 
This week I moved to another homestay. There was nothing wrong with the previous one, but in this new place there's a kitchen! After two months of eating outside three times a day, it's been quite nice being able to cook and having a fridge. The new house has some common spaces and it all makes it feel more like a home, I love it! I even started running in the evenings, the neighbourhood is quiet and there are no cars. 
The English department is preparing a Spanish culture event at the East Coast shopping mall on the 24th of September and we decided we will cook some Spanish food for all the assistants to try. There will also be some salsa dancing and a presentation about traditions from Catalunya and Spain. You are all invited to come and join us! 🙂 
Early this week, two new interns from Catalonia arrived to Surabaya! I was very excited to meet them, it is always nice to meet someone from your country when you're so far away. They are working in different high schools around the city and they'll stay here until December, just like me.  
Slide the image to see more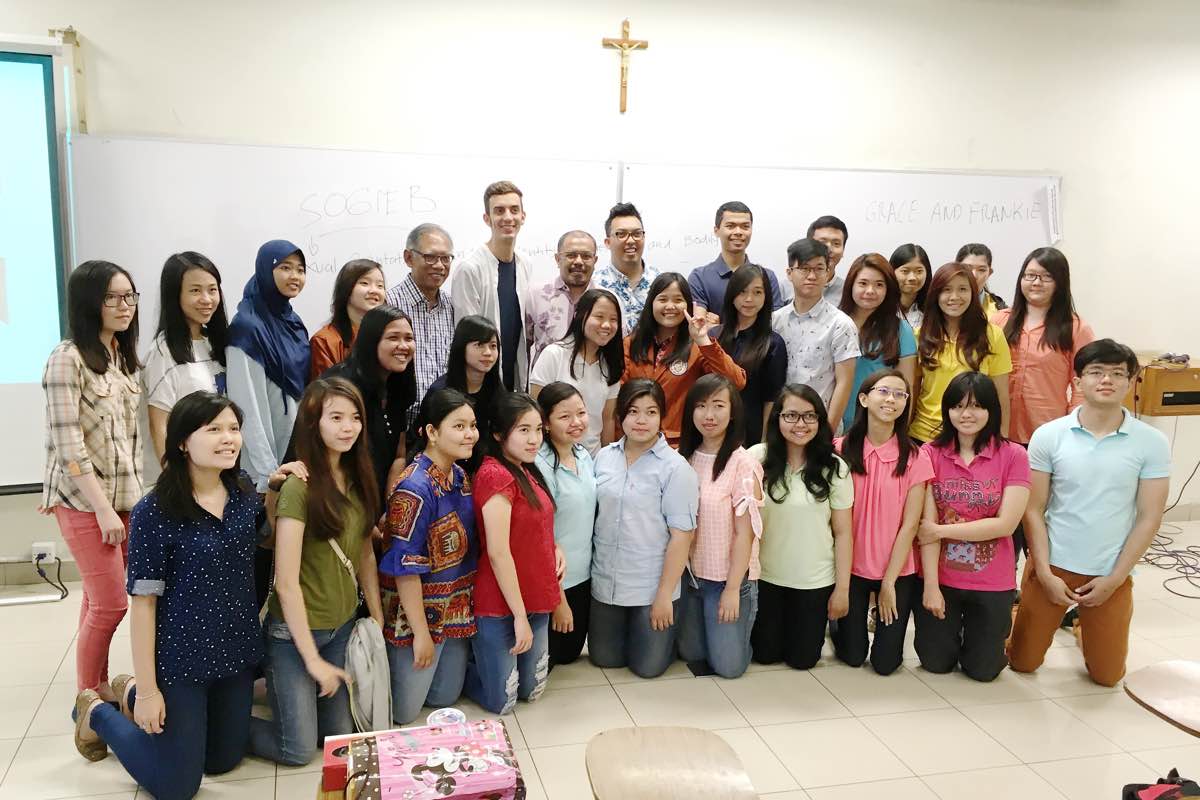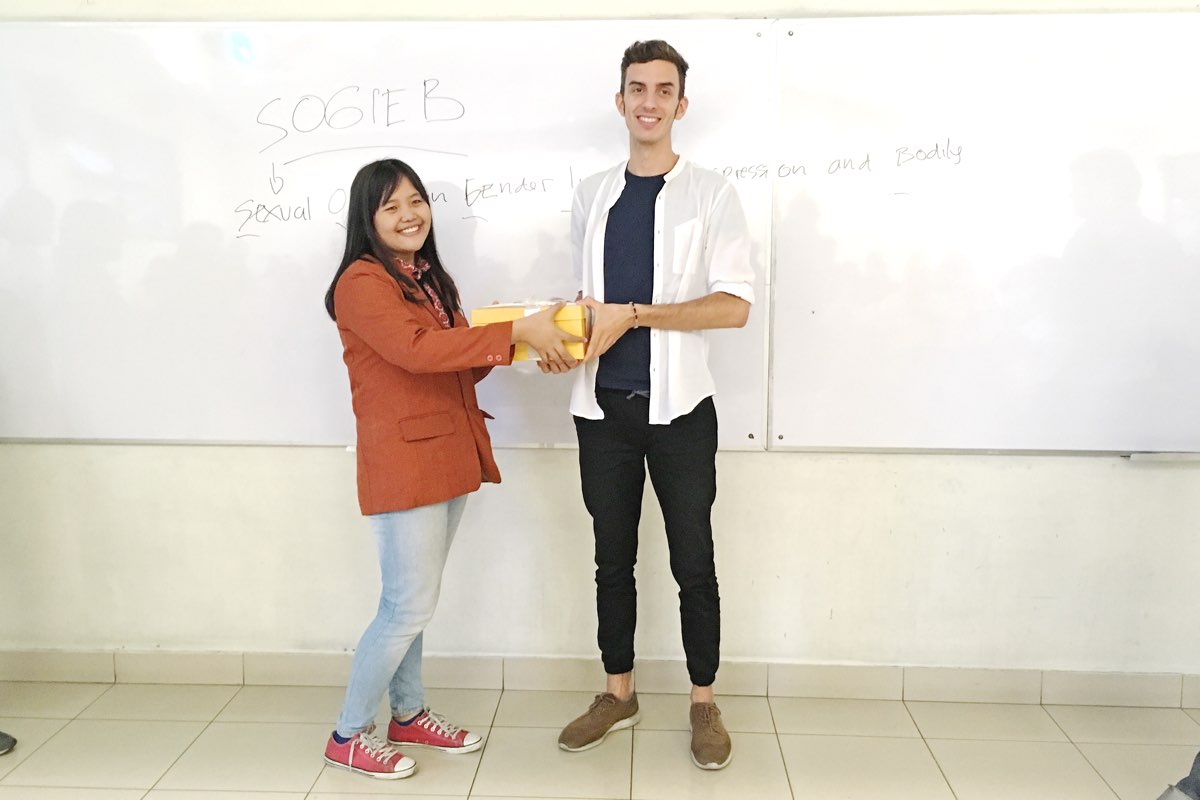 GLOBAL VILLAGE and UNIVERSITY EDUCATION FAIR 
Surabaya, Indonesia – 28 Celsius
Last weekend I stayed in Surabaya and attended the Global Village event on Sunday. This event, held by AIESEC aimed to be an opportunity for the interns and volunteers working in Surabaya to meet, share their experiences and get to know each other's cultures. I didn't know what to expect, and it turned out to be a great experience. I met lots of others who, like myself, love travelling and exploring. It is a shame that we met this late though, most of them are leaving soon and we won't have time to get together again. 
This week has been pretty busy. On Monday, the English department alongside most of the faculties and departments in Widya Mandala University, attended an education fair held at one of the Petra high schools in the city. We have something similar in Barcelona, called "saló de l'ensenyament" where students can ask their questions and solve their doubts regarding what to study in the future or which university to choose. 
As I already expected, my presence there was something intense and new for the students. I could see them looking at me, trying to pretend they weren't, or talking and discussing if they should approach our stand or stay away from the bule because he might speak to them in English. 
I believe we actually helped lots of students and they got an idea of what to expect once they start their university adventures. We also took a few pictures while doing that and I am sure my face is all over their social networks by now. 
On Wednesday we went to another fair, this time in a Petra  High school in Sidoarjo, an hour and a half away from our campus, There were less students and they were calmer than the other ones. We will keep doing this for a few more days in different places to promote our department and, hopefully, we convince more and more students to join the program! 🙂
Slide the image to see more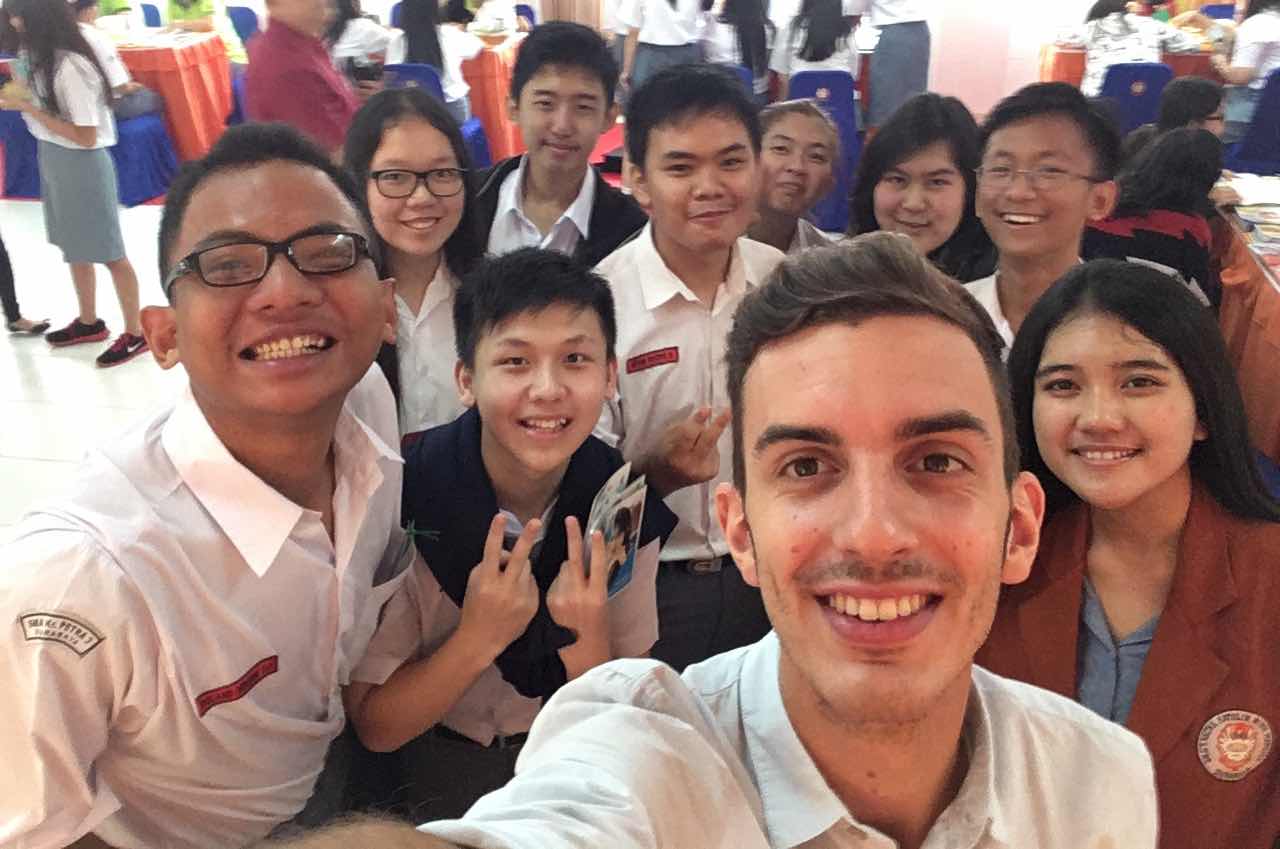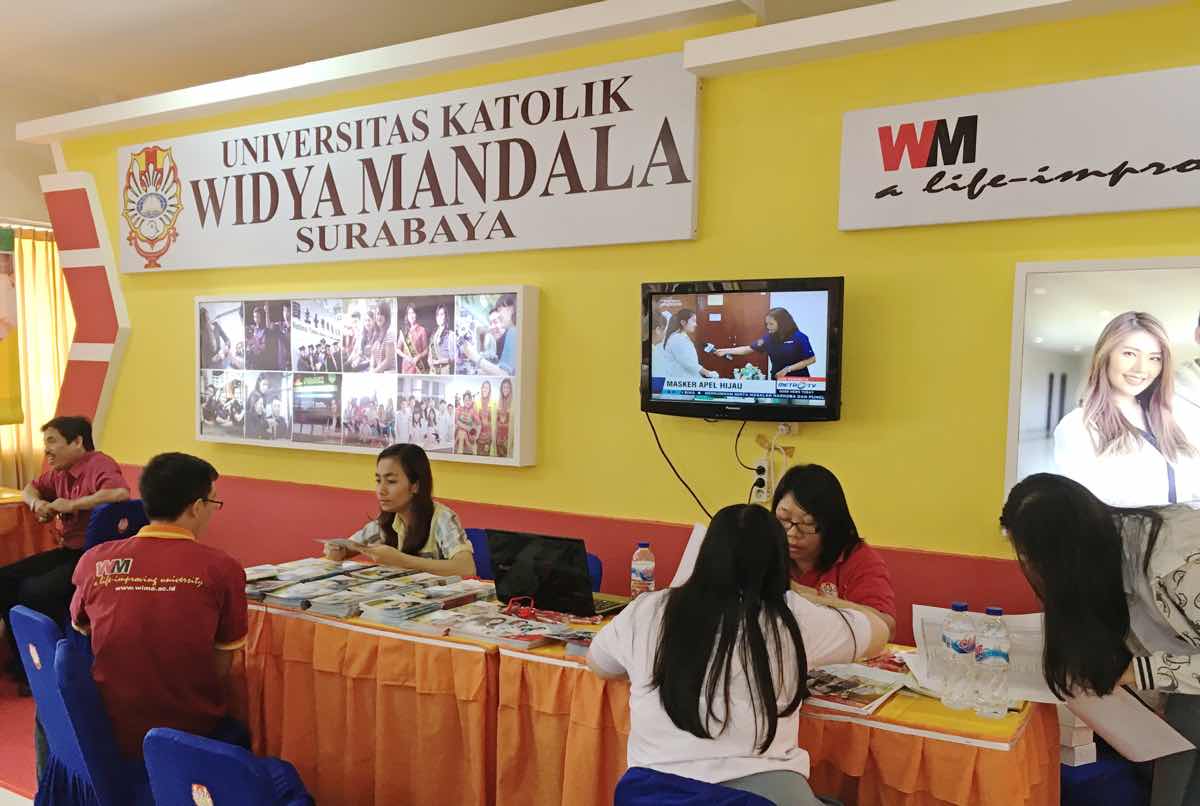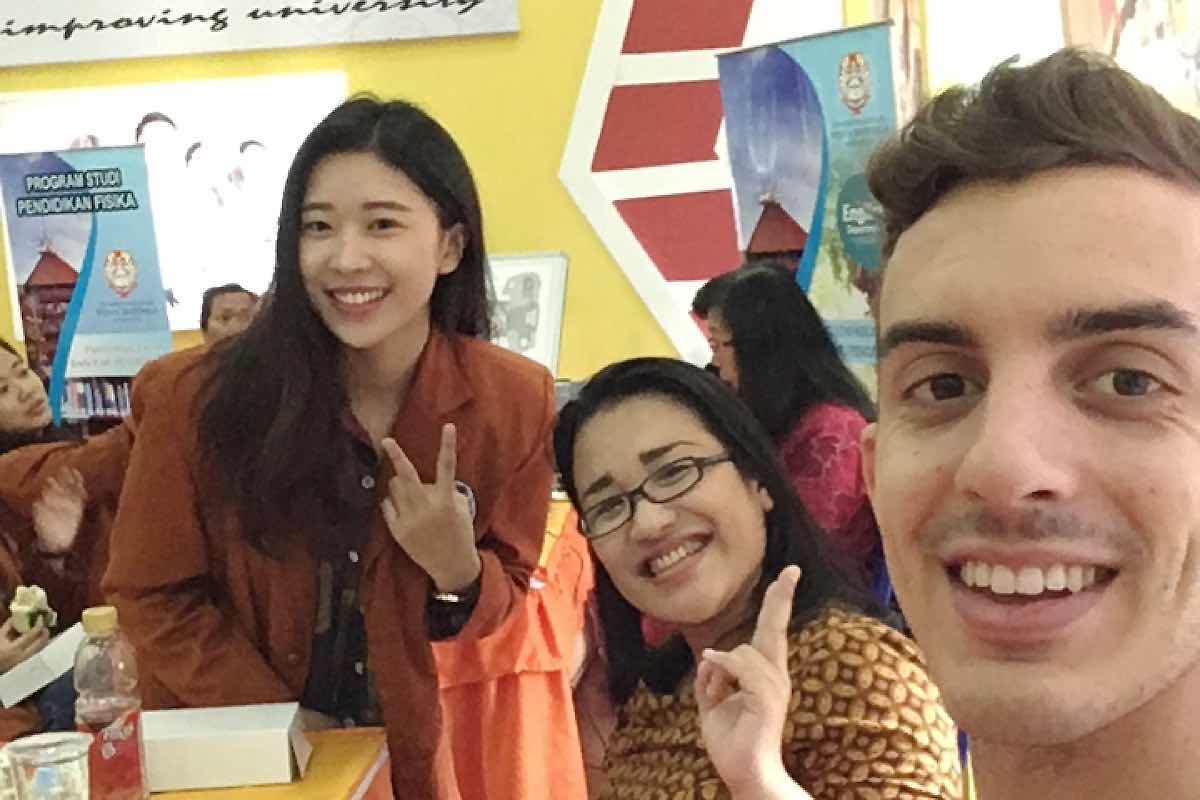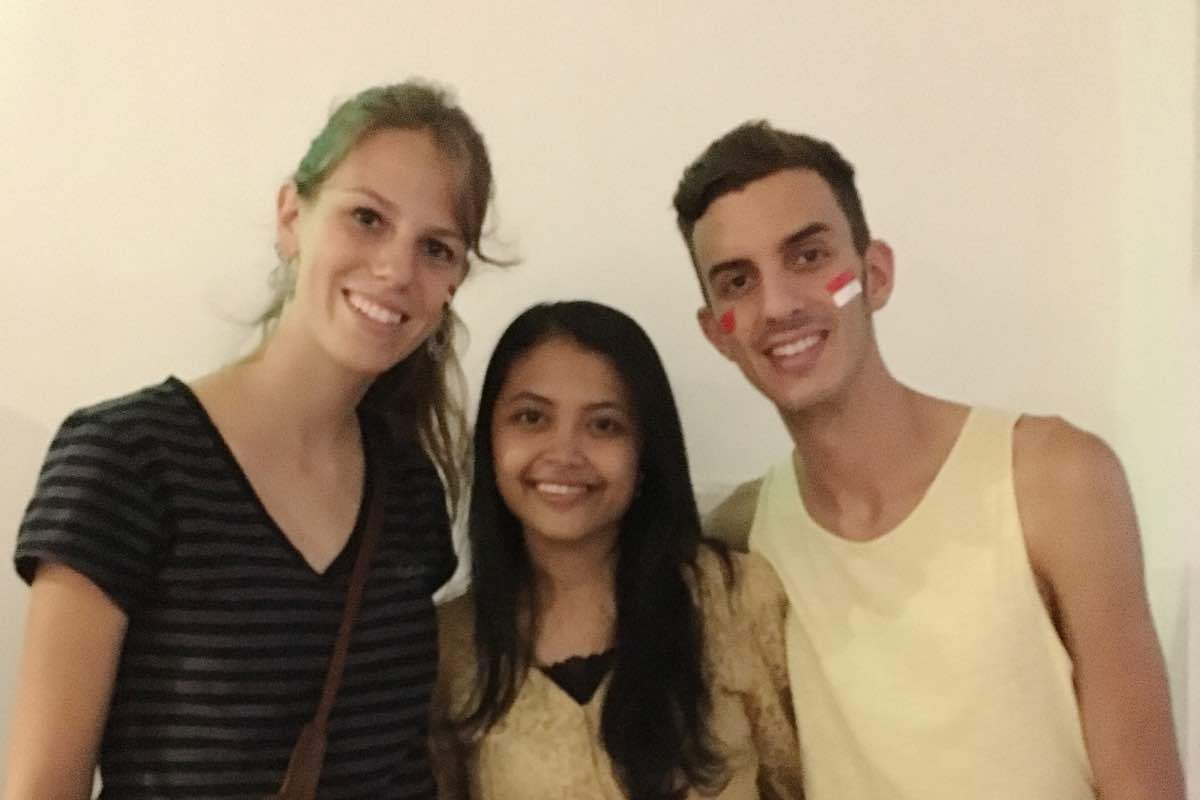 FIRST CLASS 
Surabaya, Indonesia – 30 Celsius
The first two weeks at Widya Mandala University have been great. I spent most of the first week talking to the teachers and some students and preparing materials for some of the activities coming up later this month and during September.
The first class I had was IC (Intensive Course). To be honest I wasn't really nervous at any point. Not even before the class. The atmosphere in the University is very relaxing. Everyone is nice and the students are great and welcoming. There was no reason to be nervous. I could feel how excited the students were to have me in class and that made me very happy and excited about these upcoming few months. I also gave my first class on Public Speaking and I was surprised on how much I liked teaching that class. I have done a lot of research and I have a lot of ideas that could be useful to the students, I hope I can help them learn and develop to the fullest of their capabilities. I will try my best.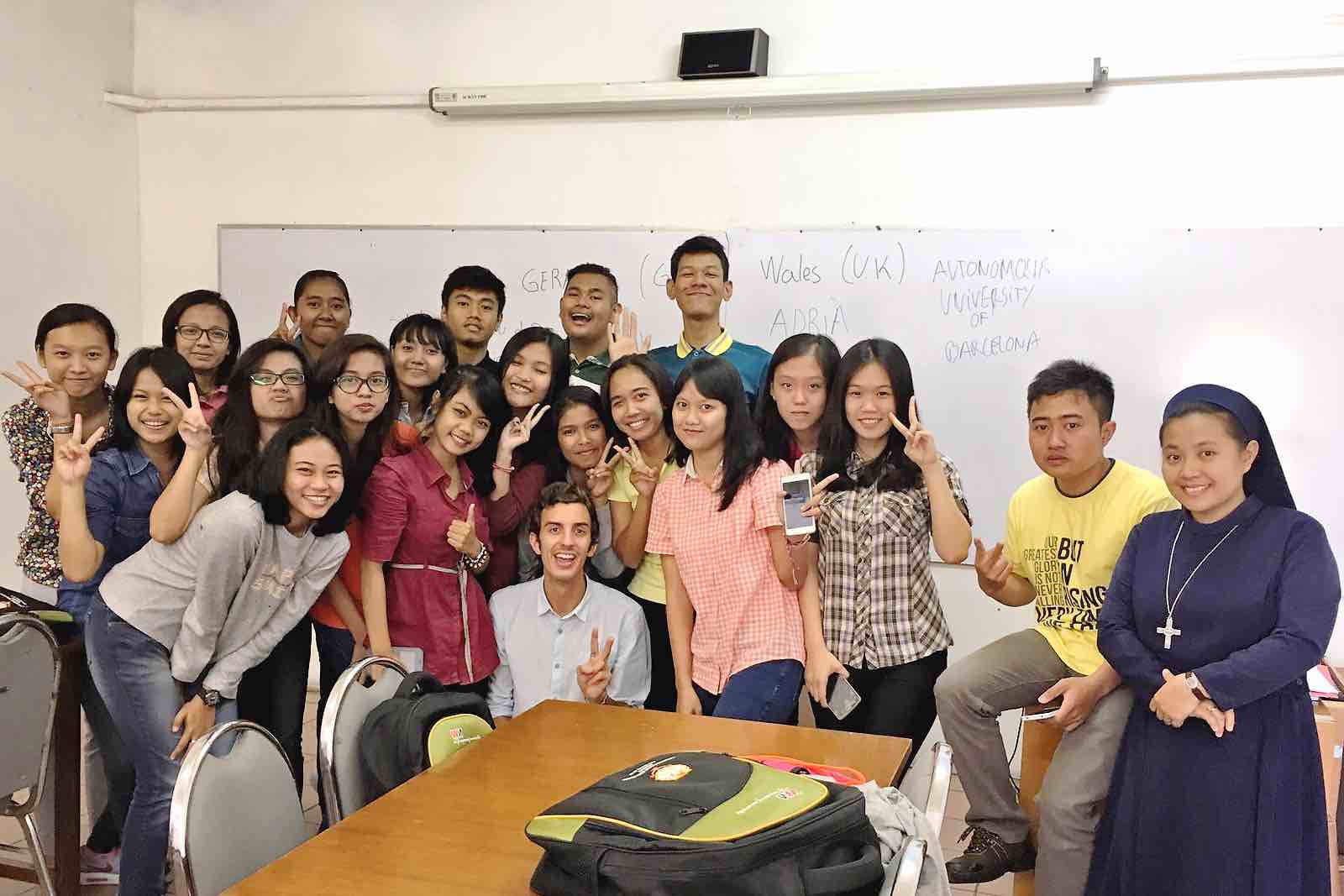 On Fridays I usually lead a discussion with the students from IC on different topics. My main priority is to make everyone talk and overcome their nerves, which I know can be a hard thing to do.
This week we had two cultural events. The first one was a cultural presentation about Spain and Catalonia. I was very pleased to share my country's culture and traditions with the students and I think they enjoyed it too. I talked to them about the main periods in Spanish history and then I showed them videos and pictures of my favorite Catalan traditions and food. Everyone was pretty impressed with the Castellers (human towers). It was great sharing all that with them and, to be honest, it made me feel a bit homesick.
On Friday, we had another cultural event, but this time it was an Indonesian tradition: Tumpeng. Indonesian people decorate Tumpengs on special occasions like the Independence day (17th of August). The English Department held a competition of Tumpeng decoration and traditional games and, guess what, I was one of the judges. Everyone put a lot of effort in the competition. I got to try the amazing and beautiful Tumpengs and I learnt a lot about traditional games in Indonesia. Congratulations to the winners!
Slide the image to see more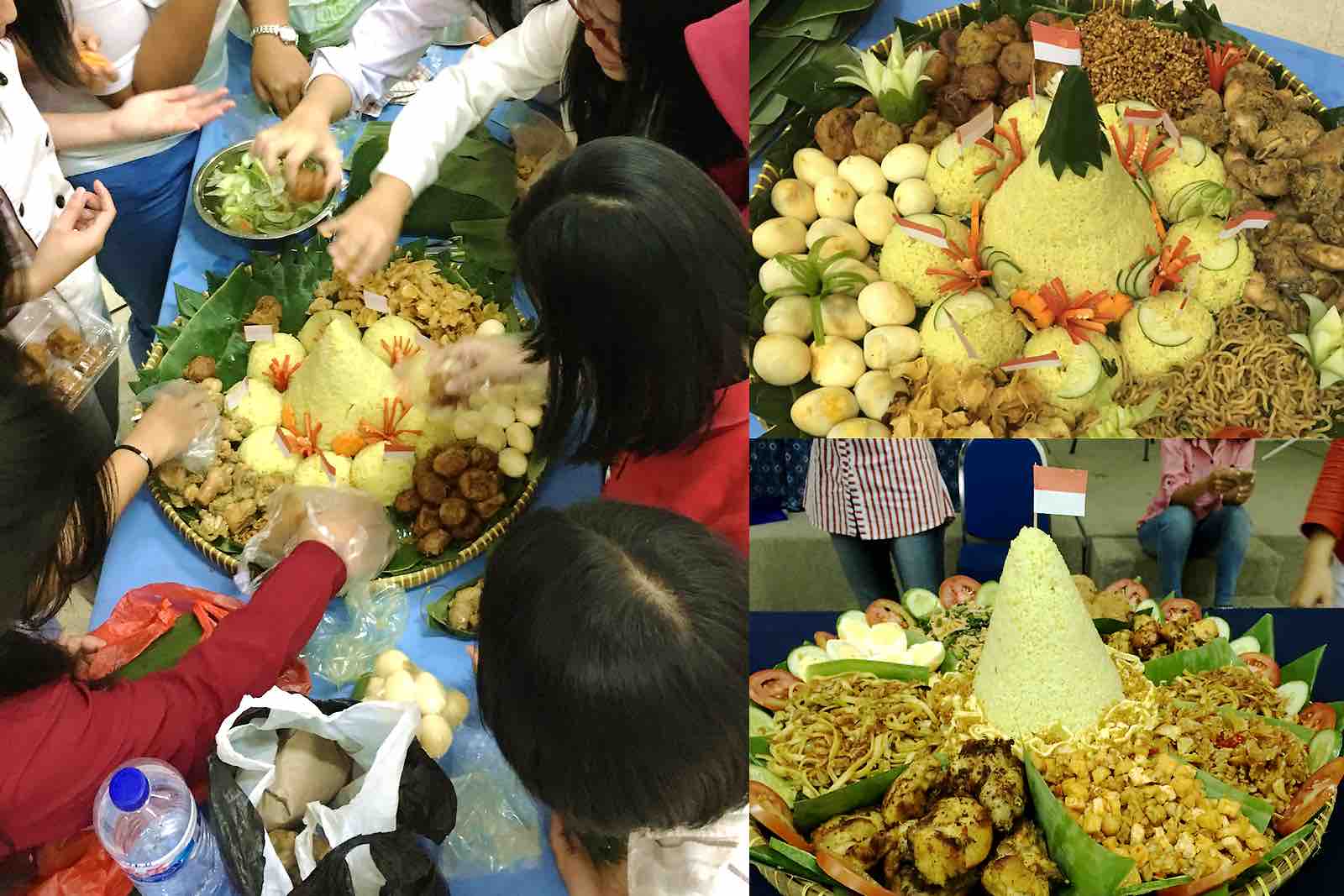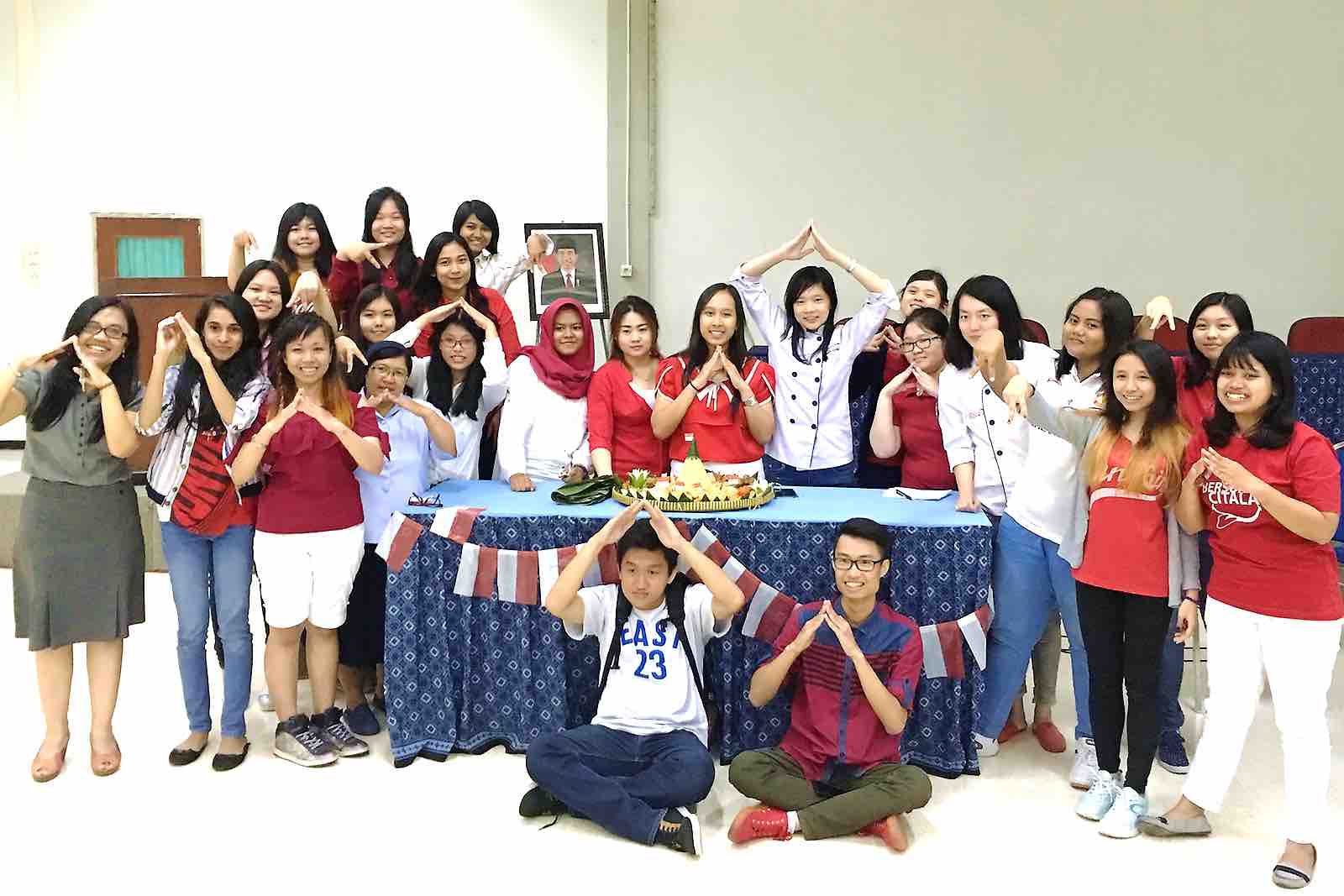 GREETING 
Surabaya, Indonesia – 33 Celsius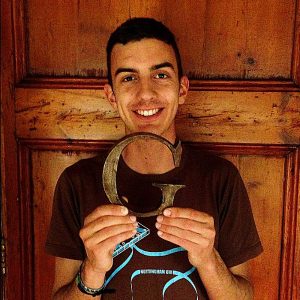 Hello everyone! My name is Gerard but you can call me G. I am from Barcelona, Spain, and I am the new intern at Widya Mandala Catholic University from August until December.
Although I didn't start working until the first of August, I decided to come to Indonesia a month in advance so I could have a month to travel around the country and explore a bit before facing my new job. I chose Bali as my first destination because it's a place that I've always wanted to go to. I had heard so many things about its beaches and natural beauties… I decided to go without a plan and that has turned out to be the best decision ever!
I arrived to Kuta and as many people had told me before, I hated it. Parties everywhere and drunk people on every corner. That is not the bali that I was looking for. Fortunately, the next morning I met 3 people and we decided to visit some places together. We went to Tanah Lot and a few other temples and one day later we jumped in a car to Ubud. We all had heard great thing about Ubud and it surroundings. It certainly lived up to our expectations. We spent the next few days riding our rental motorbikes around the rice fields and terraces, the temples and the busy roads of that cultural hub. One of the highlights of the trip was the peak of mount Batur. Waking up at 2 am and walking up the volcano to see the sunset from the top was an incredible experience.
After a few days, it was time to say good bye to my one week travel buddies and I decided to find my way to the Gili Islands. And little did I imagine that it would take a whole day! Bus, car, boat and bike to get to the hostel I had booked in Gili Air. Oh, Gili Air… what a paradise! I would have spent an entire month in that tiny little island, my only concerns being what I would have for lunch and where I would sit to watch the sunset with the awesome people that I met there.
Slide the image to see more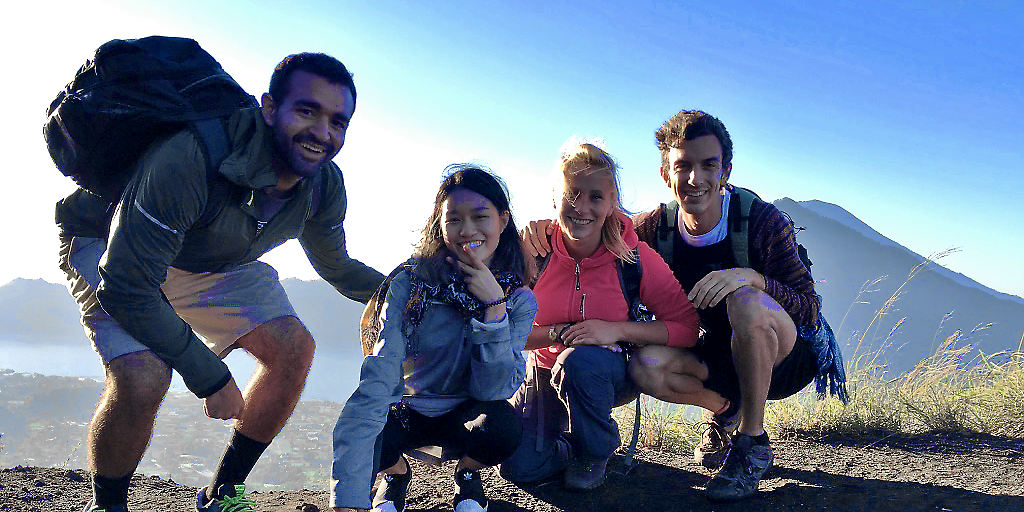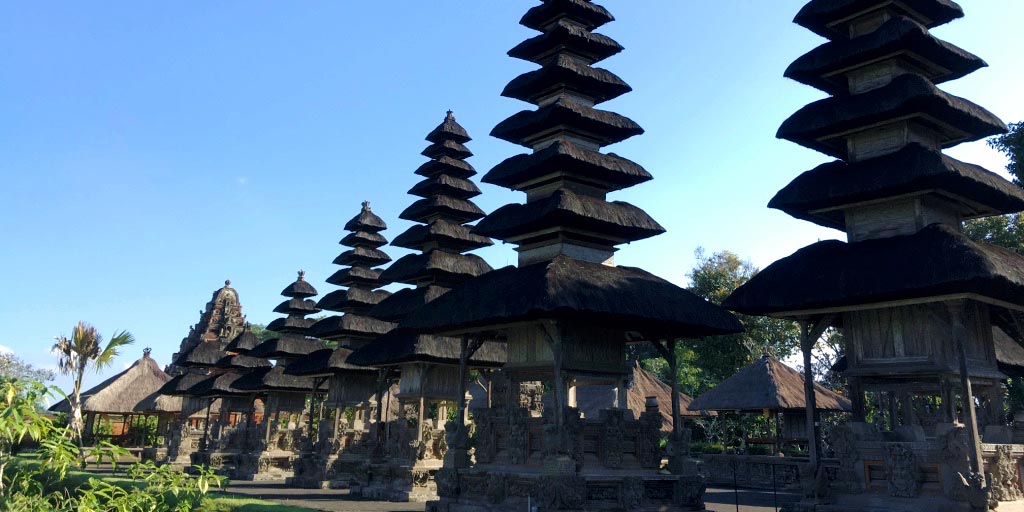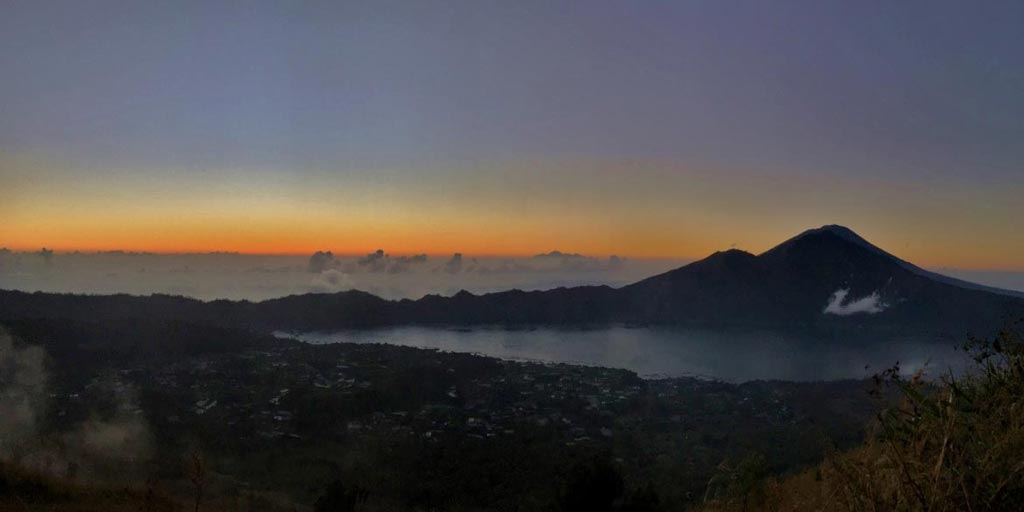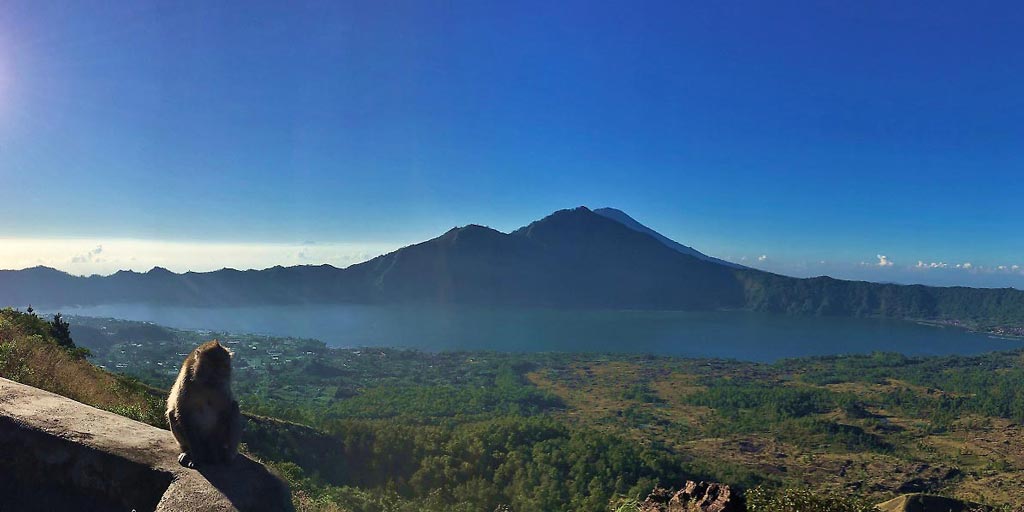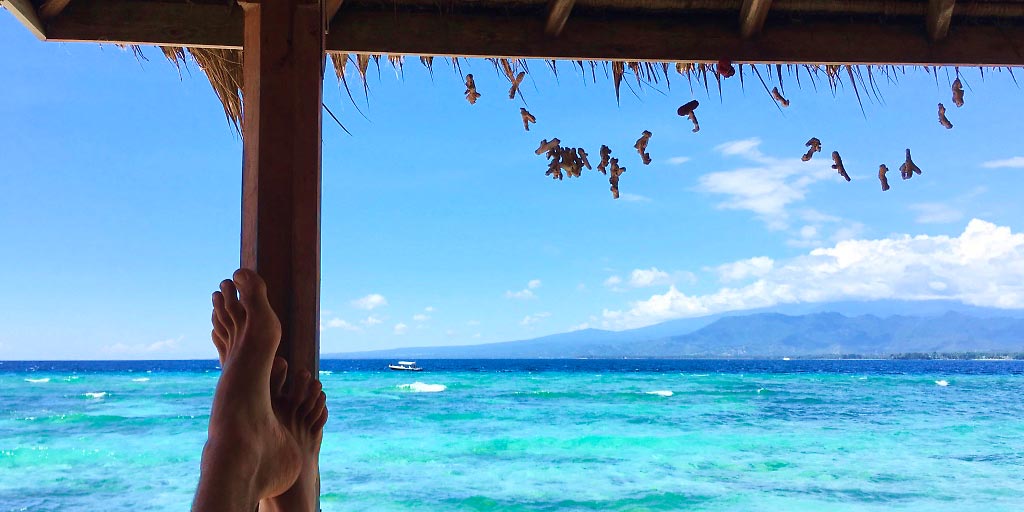 However, all good things come to an end and it was time for me to leave the island and say hello to my next adventure: Lombok. But It turns out that maybe good things are followed by even better experiences, because Lombok was amazing too. Wilderness all around you wherever you went. From Senggigi all the way south to Kuta Lombok, me and a friend drove our motorbikes across the island, enjoying every minute of on the road. Virgin islands and  and amazing coastline with no tourists awaited us in the south of the island.
Lombok came to an end as well and I took a boat back to Kuta. This time only for a night, before heading to Uluwatu and the southern part of the island. The weather was not what I expected but, hey, It had been sunny for almost three weeks, nothing to complain about. Despite the rain, we still found gorgeous beaches and, of course, the breathtaking views from Uluwatu Temple.
Back to Kuta again, this time to take a flight to Surabaya on the next morning. Shortest flight of my life, less than 40 minutes. In surabaya, people from Aiesec picked me up and took me to the train station, where I took a train that would leave me in Bojonegoro, a rural area to the west of the city. The reason I was going to Bojonegoro before starting my internship in Surabaya was to take part in a KKN program with students from Airlangga University. Their goal, our goal, was to improve the quality of live of people who live in less developed parts of the country. I would be staying in Pomahan for a week. One of the greatest weeks ever. At the beginning it was hard to adapt to the humble resources of such a poor area. We were sleeping on the floor, eating rice three times a day and the hygiene conditions weren't the best. But the less you have, the less you need, and I got used to it after a couple of days. Our routine was basically going to the different schools of the area, and teach English to the kids. Oh, the kids… loving and energetic, they filled you up with happiness every time you walked in a classroom. Every afternoon we would welcome them to our little house and help them with their homework, sing songs and play games.
With this unforgettable experience in my pocket, the time came for me to go back to Surabaya and start my next adventure. This time Aiesec also picked me up at the station and brought me to the homestay where I will be living during the next few months. I still had 4 days to explore the city before I started working so that's what I did.
I have to admit, Surabaya can be a difficult place to live if you're used to European cities (I am). This city is not prepared for walking. Everywhere you want to go, you need to get there by motorbike or car, not even bicycle, I tried that once and someone open the door of their car without looking outside first and I bumped straight into it and fell on the floor. So, no bikes in this city. Finding healthy food is also a difficult task. Almost every single thing is deep fried here, even soup has insane amounts of oil in it!
However, despite these few things that I'm sure I'll get used to really soon, I am happy to be here and I am very excited about my new internship.
On Tuesday I had my first full class with the new students and It was great! My goal when I'm in class is to make everyone lose the fear of speaking in front of other people  I can't wait to start some of our workshops as well, we'll have Spanish classes, cultural events and some other activities like public speaking and translation lessons.
I am sure we will learn a lot from each other and we will live some amazing experiences together.