Our Outstanding Scholar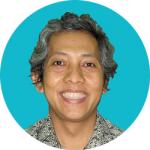 Our Dean, J.V. Djoko Wirjawan, Ph.D., has made all of us proud. His passion and perseverance have helped him achieved the second rank of the scientists in Indonesian Institutions based on their Google Scholar Citations Index as of the second week of October 2015. The list itself contains 1,000 names, and our Dean dwells in the top two of all Indonesian scholars.
I am always grateful for the opportunities leading me to encounter many great physicists in my past experience, especially through the DZero Collaboration at Fermilab, Batavia, IL.
Mr. Wirjawan was born in the suburb of Tulungagung on April 5, 1961. Since he was a child, young Wirjawan had had a strong motivation toward education. He received scholarship for his undergraduate degree, and following his passion on science especially Physics, he went to Bandung Institute of Technology, and got accepted.
He finished his undergraduate degree in 1985. Soon after that, he dedicated himself for Science by being a lecturer in the Physics Department of Faculty of Teacher Training and Education. He, then, won a grant for studying at Texas A&M University in the United States for his Master's Degree. His spirit and enthusiasm made him successful in receiving another grant for his Doctoral study in the same university.
Coming back to Widya Mandala Catholic University in 1998, he was given the trust to head the Physics Study Program before he was promoted as the head of the Research and Community Services Institute of the University. He held the position for a term before he came back to develop his Study Program, again as the Head of the Study Program. Starting from January 2013, he was elected as the Dean of the Faculty of Teacher Training and Education where the Physics Study Program is one of the three study programs running under it.
Ranking of scientists in Indonesian Institutions according to their Google Scholar Citations public profiles is 
HERE