Carnival Party
March 30, 2016 @ 12:00 pm

-

3:00 pm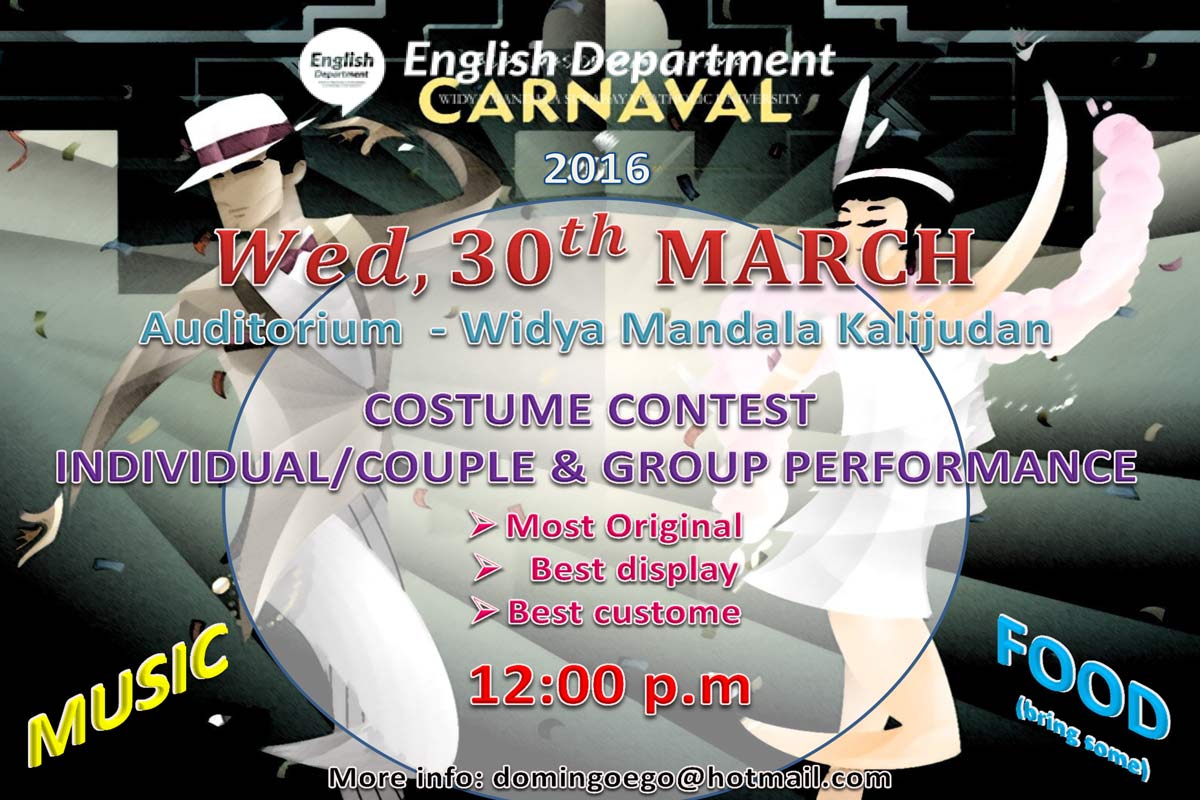 In Spain, there are not many long periods without holidays. Even in the months that seem void of holidays, such as between Christmas and Holy Week, Spaniards find a reason to celebrate: Carnival. The Carnival in Spain is full of smiles and fun, where you may run into superheroes, medieval knights, pirates, clowns or zombies as you walk through the street.
Carnival in Spain is known for its vibrant costumes and masks; although the Carnival celebration in Spain is not as esthetically beautiful as in Venice nor as over the top and dance orientated as in Brazil. It is a charming event in which people of all ages participate and enjoy, even those with little resources. The event allows people to dress up, change their identity and feel freer than during the rest of the year. Participants dress according to their possibilities and imagination and take to the streets to celebrate both night and day; crazy days in which nothing is what it seems and anyone can become whoever or whatever they have always dreamed about being.
Carnival originated from a Roman celebration and extended throughout Europe during the Middle Ages. It can be traced back to Lent.
The Carnival ends on Ash Wednesday with the The Burial of the Sardine tradition, a parody of a funeral in which a big fakr sardine is buried, symbolically marking the farewell to life's pleasures and the arrival of Lent.
We are going to perform a small approach about the Spanish Carnival is here on Widya Mandala Kalijudan conducted by the English Department into the Auditorium. It will be held here on Wednesday, 30th March at 12:00 p.m; Coinciding with the end of the exams.
We encourage you to celebrate it with us, dress up about something you fancy, bring some food and participate on the contest preparing some dance, song, or display for around 1 minute in one of our two categories (individual/couple or in a group of 4/5 persons at least) there will be great prizes, music, English language, and too much fun.
ORIGINALITY AND CREATIVITY WILL BE REWARDED
Come and enjoy the party!