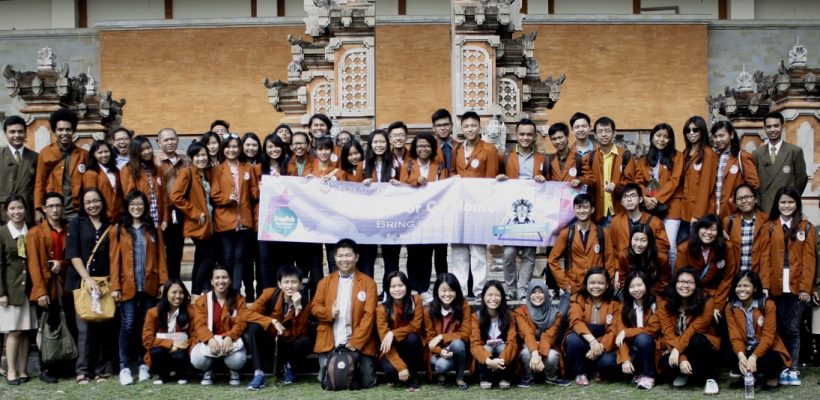 Event Report – Total Immersion Days 2016
Hi everyone! I am Christian Siantar, the chairperson of this 2016 TID. I want to share you about our beautiful journeys during the 2016 TID which was conducted in Bali for 7 days from May 29 – June 4, 2016. Departing from Kalijudan campus with 2 buses everyone had a great time.
We gathered in the campus at 3 pm. Our first journey was so long and tiring. We stopped at Utama Raya Restaurant in order to have dinner. Then at 1 am we arrived to Ketapang in order to reach Bali.
On the following day, in the very early morning, we arrived at Soka beach for taking a bath and having breakfast. Then, we went to Tanah Lot and Ulundanu for doing the interview assignment and enjoying the beach. At noon, we arrived in Legian for doing the check in. In the evening, we enjoyed our free time.
After having breakfast, we directly went to STP (Sekolah Tinggi Pariwisata). There, we learnt about their departments like management hospitality, accounting hospitality etc. After that, we went to W retreat and spa
hotel for
 the next visit. W retreat and spa is so amazing, we got a lot of knowledge about tourism and the presenter was so inspirational for improving our speaking because he spoke English fluently towards us. Next, we went back to hotel and enjoying our free time.
That day, we went to Kompas TV. There, we learnt a lot about broadcasting, reporting news etc. Then, we visited Pirate cruise for refreshing our mind and having dinner. The cruise was so big and both the singer and fire dancers were so attractive with their talents. In the evening, we enjoyed our free time as well.
We visited 3 beaches. There were Padang-padang, Blue point, and Pandhawa. There, we swam, took pictures, and enjoyed the view around the beaches. In the evening, we held our TID Awarding Night. There, we enjoyed our movies creation, gave many prizes, and ended with disco time. After that, we had our free time as well
On this last day, we left our hotel and visited the traditional market for shopping. Each of us bought many stuffs for our family. The last visit before going back was Jimbaran. Jimbaran was so beautiful with the sunset view at noon. Then, we continued our long trip to Surabaya.
We arrived at 6 am in Surabaya safely.
Hopefully, after joining the 2016 TID, we would be able to improve our English skills in both written and oral. In conclusion our 2016 TID ran successfully and the memories were memorable in our mind.
TESTIMONIALS
TID was one of the best experiences in my campus life. This was the time where we could forget our burdens (for a while) and immersed in the moment. We were really having the time of our lives. I might said that this was one of the best TIDs because there were some 'inovations' that we made. For instant, we had the Awarding Night where we felt like actors and actresses who were attending a 'real' awarding night. The places that we visited were also interesting. One of those places that I loved the most was the W Retreat Hotel in Seminyak. It was really Wonderful, Wow, Warbyasahhh (hahaha). It won't be enough to describe our experience in words. However, one thing that we know until now is that we didn't realize that we had made memories because all we knew were having fun. TID 2016 is the best! #GoHardorGoHome #GoHard!

Yosefina Fernandez (1213013069)
A joyful togetherness. That is what I got from TID 2016. Every single detail of TID become the best things ever happened once in a lifetime. Even the smallest thing like the sausage we used to have for breakfast in our hotel become memorable. The music from the speaker beside our hotel and the playlist on our videos as well. Lol. In TID 2016, we were not only learning about 'formal visiting' but also we learned how to keep together in a happiness. 'Go Hard or Go Home' is really suitable to be our theme. We go hard to enjoy every moment, tried hard to speak English all the time became so fun.
Interviewing the foreigners became so challenging. But then, we go home with never-ending smile on our face.It was worth it. We bring the high spirit to the fullness means that we are completely happy. We did not feel tired at all. Really a well-spent week. Also I'd like to say a bunch of thanks to the lecturers who accompanied us patiently and the travel agent as well. This is the best TID ever! To the participants and committees, you rock guys!Last but not least, TID 2016 Go Hard or Go Home, Bring it On!

Hoegeline Debby I. Ngape (1213013052)
TID was a very excitable trip and a happy 'togetherness' moment. It was really good and now, I miss every moment that happened at there. I felt joy, warmth, togetherness, and many more (I can't explain and I don't know how to explain it). That's what I felt during the TID 2016.
In TID, we weren't only having fun, but we also adding our knowledge. We visited so many places. The hotel that we stayed was good too. The atmosphere near the hotel is very lively. Every morning, we ate delicious breakfast like bacon, sausages, eggs, potato with seasoning, cereal, bread, etc.
We were also asked to interview some foreigners in TID. This was very challenging because some foreigners might reject your interview. We had to speak English too during the TID, and it was funny and interesting to speak English with your friends.
So, for the conclusion, this is the best TID and I think, 1 week wasn't enough for me.TID becomes so memorable for me, especially for the togetherness. I'm sure my other friends feel the same way for this TID. Very thank you for the lecturers to accompany us and to take care of us during the TID, and thank you to all my friends. Go Hard or Go Home, Bring it on!!!!


Irene Diandra Lyendo (1213013071)